78th Birthday Special
CELEBRATIONS TIME ON YOODLEEYOO.COM – IT IS KISHORE'S BIRTHDAY!! All KK fans join together to celebrate at Yoodleeyoo.com the 78th Birthday of our Legend Kishore Kumar. Kishore Kumar We wish you a Very Happy Birthday You live forever with us in your music.. Today's special brings you – Two lovely write ups by our two […]
CELEBRATIONS TIME ON YOODLEEYOO.COM – IT IS KISHORE'S BIRTHDAY!!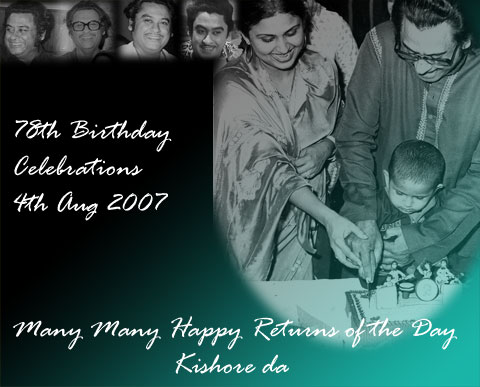 All KK fans join together to celebrate at Yoodleeyoo.com the 78th Birthday of our Legend Kishore Kumar.
Kishore Kumar
We wish you
a Very Happy Birthday
You live forever with us in your music..
Today's special brings you –
Two lovely write ups by our two esteemed KK fans Madhavi and Eskayes.
1. Remembering KK on his 78th Birthday, Retracing the journey of his Musical Career – Madhavi traces Kishore's rise in his musical career – The beginning…
2. Kishore – The Extraordinaire – Eskayes etches out beautifully the birth of the legend and how he carved a special niche for himself in bollywood films and hindi film music and continues to reign even to this day.
Radio program – Variety coming your way by way of – (Timings are IST)
5.00 P.M. Duets of Kishore – with various singers galore
7.00 P.M. Fun and frolic – who else could give us but our own Kishore.
8.00 P.M. Live Show songs – plenty and bounty – The Performer at his best.
9.00 P.M. Khandwa Live – We bring this audio delight once again after many years. Our special thanks to Srinivas Gattu – the source for this rare treat.
Harihar and Dj Don join in offering their musical tribute on the Yoodleeyoo Radio.
Video clips from movies – a journey of fun and comedy – Kishore the splendid artiste.
Our special thanks to Subir Biswas – who offered great pictures of fantastic quality and Espari Qader, a great fan of Kishore Kumar, and a singer himself – for the Kishore Live program.