78th Birthday Radio Special
78th Birthday Special On Yoodleeyoo Radio. Do not forget to tune in. Click on the following link and your music player will open to the world of music with Kishore Kumar. (To play the radio, you have to open the .pls file with music players like winamp, jetaudio, windows media player.) Tune in on Yoodleeyoo […]
78th Birthday Special On Yoodleeyoo Radio. Do not forget to tune in.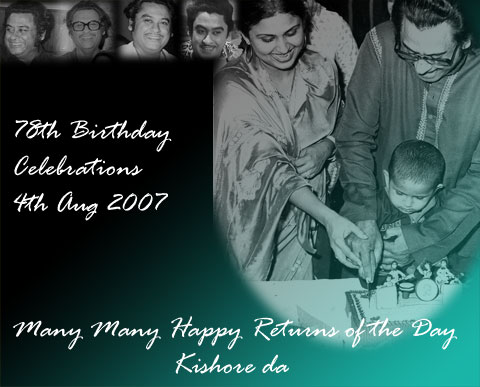 Click on the following link and your music player will open to the world of music with Kishore Kumar.
(To play the radio, you have to open the .pls file with music players like winamp, jetaudio, windows media player.)
Tune in on Yoodleeyoo Radio at
5.00 P.M. Duets of Kishore – with various singers galore
7.00 P.M. Fun and frolic – who else could give us but our own Kishore.
8.00 P.M. Live Show songs – plenty and bounty – The Performer at his best.
9.00 P.M. Khandwa Live – We bring this audio delight once again after many years. Our special thanks to Srinivas Gattu – the source for this rare treat.
10.00 P.M. Dj Don goes online with his selection of Kishore Kumar Songs followed by Harihar, who are our two great music fans who will entertain with the very best of Kishore Kumar.