20 years……
Greetings to fellow Kishore Kumar fans: Like sand through fingers, twenty years have run out. October 13, 1987 feels like just a few weeks ago – a friend called with the news, I thought he was kidding.. refused to believe him..…got other phone calls and finally, the enormity of the event sunk in – no […]
Greetings to fellow Kishore Kumar fans:
Like sand through fingers, twenty years have run out.
October 13, 1987 feels like just a few weeks ago – a friend called with the news, I thought he was kidding.. refused to believe him..…got other phone calls and finally, the enormity of the event sunk in – no more Kishore Kumar.
At that very moment, it seemed to be an impossible accident, given just how familiar, how intertwined he was, in our daily affairs. A song heard on a radio or one wafting in a bar or a poster of a Rajesh Khanna film or the spine-tingling anticipation of an upcoming RDB release – these were constant reminders of his presence. He was an elemental part of our own daily existence, one of the wicks in our shrine of Hindi film music that would glow forever.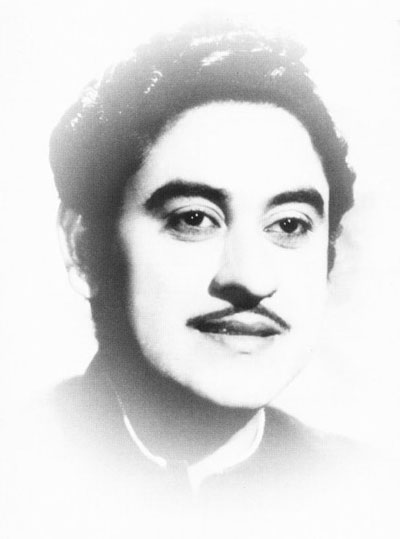 That was then. As it relates to Kishore Kumar, the twenty intervening years truly have been a case of –
Guzar jaaye din din din, ke har pal gin gin gin
Kisi ki haaye yaadon mein, kisi ki haaye baaton mein
In my own case, and maybe in yours, these twenty years have been a paradox of sorts. For while age slowly marks its furrows on me and you, Kishore Kumar has grown younger.
In the sense that except for his temporal presence, he is not only very much around in an unending stream of reissues of his songs, is woefully missed by today's music directors who could not compose for him, but has been embraced by at least two more generations of Hindi film music listeners since 1987.
This makes his a voice that has transcended six decades, about the same age as modern India, and like it, marches confidently into the future, on the world stage, very confident, very relevant and very much alive.
Other Hindi film singers have commanded the same long, striking records of currency and affection. But with Kishore, it is different. Thousands of pages have been written on why he was a one of a kind.
Suffice to say that in 2007 and likely in 2027, that deep humming or the fast opening or complete silliness or unmistakable yodel that begins a song, we know, belongs to one and only one singer – Kishore Kumar!
On every anniversary of his, we in the Internet forums have made lists. And this one for me is no different. No one harnessed his voice better than the Burmans. That said, my next favorite music director for him is Laxmikant-Pyarelal.
Whatever else may be said of them, there is no denying that their tunes, style and orchestration provided a wonderful change from all the rest of his composers. And a dazzling diversity within their own songs for him. From slick, all-western based to all-folk instruments, from loud extravaganzas to quiet softies, from soaring romantic expression to bitter regret, from slow-moving seductions to brazen oomph, from street-smart tapori to majestic, snow-bound heights – they did it in all these styles and more – for their songs for Kishore.
So, on this 20th anniversary, these would be the 20 L-P Desert Island solo companions for me. Like trying to pick 20 of the best vines from a Sonoma field, an impossible restriction, given how hard and how bountifully Laxmi-Pyare worked for the perfection of a moment in time – when the great Kishore Kumar was in their studios.
* Mere Sajna – maine kuch khoya hai
* Piya Ka Ghar – ye jeevan hai
* Darpan – bujha do Deepak
* Dulhan – jaane chaman
* Manchali – miley kahin do ajnabee
* Phool Khile Hain Gulshan Gulshan – duniya mein sabse haseen
* Gautam Govinda – ek ritu aaye
* Anokhi Ada – haal kya hai dilon ka na pucho sanam
* Mehboob Ki Mehndi – mere diwaanepan ki
* Majboor – Michael daaru peeke
* Pyar Kiye Jaa – din jawaani ke chaar yaar
* Hum Sub Ustaad Hain – suno jaana suno jaana
* Ek Nazar – title song
* Mr. X in Bombay – mere mehboob qayaamat
* Shreeman Funtoosh – ye dard bhara afsana
* Daag – mere dil mein aaj kya hai
* Do Raaste – khizan ke phool
* Piya Ka Ghar – Bumbai sheher ki tujhko
* Anurodh – aate jaate khubsoorat
* A medley of the solos of Nazrana, Prem Shastra, Amir Garib, Jaaneman, Raja Jani, Wafa, Mastana, Aan Milo Sajna, Karz and Aashiq Hoon Baharon Ka.
© Copyrighted to Yoodleeyoo.com All Rights Reserved.