Kishore – The Extraordinaire
Eskayes writes……… Fortunate had been the music lovers the world over, and especially my fellow Indians, for this day in history which witnessed the birth of one of the greatest singers in Indian Film Industry, Kishore Kumar aka Abhas Kumar Ganguly. A genius is born, and not made. And how true is this saying when […]
Eskayes writes………
Fortunate had been the music lovers the world over, and especially my fellow Indians, for this day in history which witnessed the birth of one of the greatest singers in Indian Film Industry, Kishore Kumar aka Abhas Kumar Ganguly. A genius is born, and not made. And how true is this saying when it comes to him. Even though he had no formal education in music, acting or film production, which one would associate as a must for any talent to be harnessed, he was an epitome in virtually every bit if art he touched, be it singing or acting. Never had the industry seen such a versatile genius and perhaps would never see.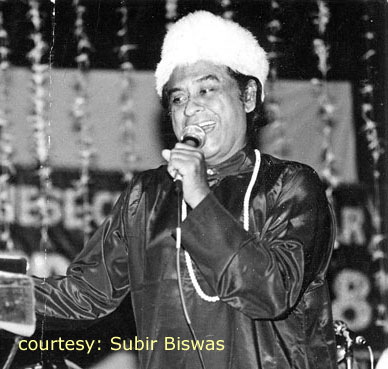 Starting with a humble beginning as a chorus singer in 1940s, he went on to become the numero uno singer of the Indian cinema by 1970s. During this journey to stardom of three decades, he grew from strength to strength and unfolded his multitude of talent and artistic skills. During the course, he sang lighter, comedy type songs like Kuyen Mein Kood Kar Mar Jana from Parivar, to soft melodies like Ye Duniawale Poochenge from Mahal, to heart rendering songs like Koi Hamdam Na Raha from Door Ka Rahi, to classical songs like Husn Bhi Udaas Hai from Fareb, to soothing silken touch songs like Ye Jeevan Hai Is Jeevan Ka from Piya Ka Ghar with equal ease and aplomb. His reverberating baritone and pristine voice always infused such life to his songs that even Aurangazeb would have been tempted to hum his songs. Old and young alike, his voice touched people at their heart that even to this day, after two decades of his death, he remains one of the most popular singer even amongst the current youth which never had the fortune of being contemporary to his singing life.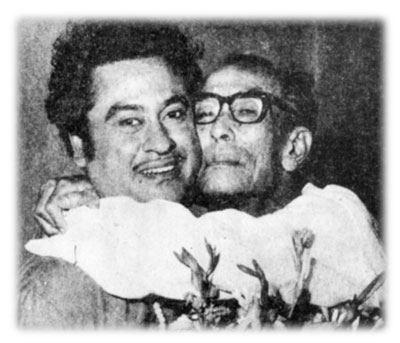 But Kishore Kumar was not only all about singing. He started his acting career in 1946 in the film Shikari.. How coincidental that this film in 1946 was also to be the debut film for another legend of Indian film music, SD Burman. Acting was never something which Kishore Kumar liked very much. It was just at the instance of his by then famous actor brother, Ashok Kumar that he took to acting. Despite being a reluctant actor, he would go on to become the leading Superstar hero of bollywood by the turn of 1950s only speaks of a genius of art that he was. His first experience of producing a film was in 1958 with the film Chalti Ka Naaam Gaadi, a movie remembered to date as one of the best comedy films ever made in Bollywood. He penned his first song for film Jhumroo in 1961, Main Hoon Jhum Jhum Jhumroo, which remains as the epitome of yodeling abilities even after half a century. Through his first two music compositions for films Jhumroo and Door Gagan Ki Chhan Mein, he unleashed his breadth of music comprehension and feel, spanning from fast, pacey, rap like music from Jhumroo to soft, soothing and mesmerizing music of Door Gagan Ki Chhaon Mein.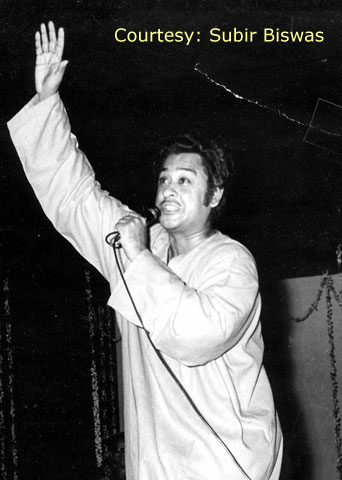 Kishore Kumar was someone extra-ordinary. He was gifted and perhaps ahead of his times. He was willing to explore horizons most would dread to tread, especially in the earlier part of his Bollywood life. As he grew in stature and popularity, he introduced the industry with newer paradigms of singing and acting. "Towering genius disdains a beaten path. It seeks regions hitherto unexplored." If these remarks of Abraham Lincoln suited anyone the best, Kishore Kumar would be the one.
© Copyrighted to Yoodleeyoo.com All Rights Reserved.