Kishore Kumar's Andaz-E-Ghazal
Neel Trivedi talks about Kishore and Ghazals…. Kishore Kumar is one of the most versatile singers ever in the Indian film history. However, no matter how popular one gets, celebrities always have their fair share of critics and in that light Kishore Kumar was no different. Sure he was great in funny songs, they say, […]
Neel Trivedi talks about Kishore and Ghazals….
Kishore Kumar is one of the most versatile singers ever in the Indian film history. However, no matter how popular one gets, celebrities always have their fair share of critics and in that light Kishore Kumar was no different. Sure he was great in funny songs, they say, but he never sang ghazals, qawwalis, bhajans and/or classical songs. Of course they are wrong. Any true Kishore Kumar fan could easily create many valid arguments against the claim and it is my wish to do just that in a series of articles focusing on Kishore Kumar's songs that may not have gotten too much attention during their time, but today could dispel any myth the critics have that KK wasn't versatile. In this particular article, I will focus on some of Kishore Kumar's best ghazals. Keep in mind that these are certainly not all of KK's ghazals, just ones that seem to stand out and some of my personal favorites.
MERE DIWANEPAN KI BHI DAWA NAHIN
Movie: Mehboob Ki Mehndi (1971)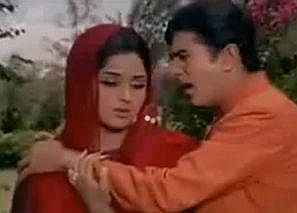 A funny thing happened in 1969. KK was till then struggling to get playback offers except in the films that he acted in. But in 1969, he got an offer. Prior to that, KK's playback experience was limited to Dev Anand and comedians like Bhagwan, Agha, Mehmood, etc. But in 1969, S.D. Burman gave him a life changing opportunity to sing in Aradhana (yes, my research tells me it was S.D. Burman's choice to have Kishore Kumar, not R.D. Burman like many stories point out). And what an opportunity it was! KK sang three songs, two of which were super hits back in the day, (Mere Sapno Ki Rani & Roop Tera Mastana). And so a run at the top started which lasted until his unfortunate death in 1987. All of a sudden, music directors who kept a closed ear on KK began to experiment with him and how! One of them was the team of Laxmikant Pyarelal. Till then, LP were staunch Rafi loyalists and only utilised KK in films in which he acted. But in 1971, they did the unthinkable. They gave the regular "filmy" songs to Rafi in Mehboob Ki Mehndi (and that too for Rajesh Khanna who by now had declared KK as his singing voice) and made KK sing the ghazal! What prompted them to do such a thing, only they know. But the effect was simply marvelous! The song proved that KK could sing a ghazal just as good as anybody else. Particularly, KK's musical talent comes out each time he sings the words "dawa nahin," and the subsequent Kaafiyaas of the ghazal after that. Simply superb!
SAVERE KA SURAJ TUMHARE LIYE HAIN
Movie: Ek Baar Muskuraado (1972)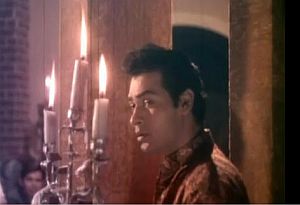 Again, some strange circumstances here. O.P. Nayyar was another music director who always preferred Rafi and sometimes Mahendra Kapoor. For whatever reason however, KK got to sing some of his best songs in this movie, one of them being the beautifully composed, written and of course sung, Savere Ka Suraj. Though my knowledge of classical music is limited, I think this song is based on the raag Yaman Kalyan (corrections are welcome if I'm wrong). In this particular song, I've noticed that KK, who was very articulate with lyrics in his songs anyway, seems to be more articulate then usual, stressing each word like only he can. Perhaps it was because this is a ghazal, where emphasis is always put on the lyrics. Whatever the reason may be, the effect is awesome! The only negative thing about the song is the picturizations which didn't quite live up to the quality of the song. Thank god that KK's voice is so good and powerful that it overshadows anything else!
MERE DIL MEIN AAJ KYA HAI
Movie: Daag (1973)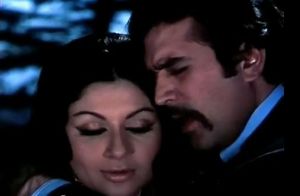 Not too much to say about this one because everybody has heard it. Until then, Yash Chopra had always directed movies under his brother, the late B.R. Chopra's banner. In most cases, the music in those movies was scored by Ravi and the singers were mainly Mahendra Kapoor, Asha Bhosle and sometimes Rafi. When Yash Chopra broke away and formed Yash Raj Films, he decided to form his own musical team with Lata Mangeshkar and KK. From then on, he took KK in most of his movies until he died in 1987. Daag of course, also starred Rajesh Khanna so KK was the obvious choice here. Some thoughts on the song: KK sang this wonderfully (as always) and had some nice modulations on this song. They lyrics are also well written. One thing that always bothered me however, is the actual composition by Laxmikant Pyarelal. It was good, but considering that this is a ghazal, I always felt like they could have added something more to it. Instead what you get is a ghazal that sounds totally "filmy." Hence, a lot of people don't bother to put this in the category when talking about ghazals in films. And considering how good KK sounded in Mere Diwanepan Ki, you would think they would take advantage of his abilities and give him something more to work with. All in all however, a good song.
WOH EK DOST JO MUKHKO
Movie: Surkhiyaan (1985)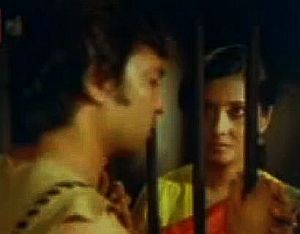 A very rare song indeed from a forgotten movie. It's unfortunate because this movie had some really good gems scored by Vanraj Bhatia (a very under-rated composer in my opinion). If you haven't heard this one, you owe yourself a real treat. One thing in this particular song to watch out for is how after the mukhda, the antaras take somewhat of a different turn. KK of course handles it in an excellent manner. I think there is a female version of this song as well, but I haven't heard it. All in all, one of KK's best songs in my opinion! What do you guys think?
SARAKTI JAYE HAI
Movie: Deedar-E-Yaar (1982)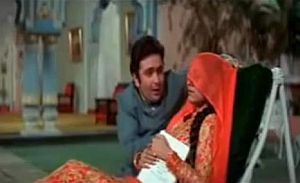 Poor Jeetendra! This movie was supposed to be his personal mega-project and took many years to make. Alas, the film, directed by H.S. Rawail who was known for making Muslim socials, sunk without a trace at the box office. If there was one consolation, it was the music by Laxmikant Pyarelal. Being a two-hero movie starring Rishi Kapoor and Jeetendra, LP divided the songs between KK and their favorite singer, Rafi and came out with some melodious songs. One of them was Sarakti Jaye Hai Rukh Se Naqab. Ardent ghazal lovers may recognize this ghazal as sung by Jagjit Singh. KK goes for a fairly deep and strong voice in this song and, with this being a ghazal, stresses out each word as only he can. Only one minor hitch I can think of and that is no fault of KK. It's been said before that whenever KK felt uncomfortable with a particular word(s) in a song or if he didn't understand it, he would ask for it to be changed so he could convey the lyrics with the right emotion. Of course in a traditional ghazal, you can't do that. There were a couple words which I felt KK approached quite hesitantly, particularly in the line Haya Yak Lakt Aaye Aur Shabab. Then again, mabye I'm nitpicking here and maybe KK was just going for some modulation. Either way, KK still sounds perfect in this song along with Lata Mangeshkar, proving that he could sing a ghazal, even a traditional one, as good as anyone.
MANZILEN APNI JAGAH HAI
Movie: Sharaabi (1983)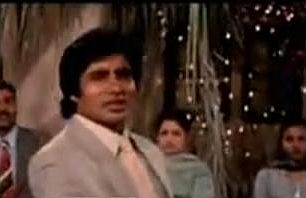 During the 1980s, a lot of mediocre songs were being churned out by various music directors, particularly in those gaudy South Indian remakes starring Jeetendra. Outrageous clothing, outrageous dancing, outrageous music and lyrics filled those movies leaving KK to sing so many songs that failed to do justice to his voice. Keeping all that in mind, Sharaabi was like a breath of fresh air. The music by Bappi Lahri, was surprisingly melodious and very Indian, at that. The song itself is a masterpiece and it's a crying shame that it hasn't received more attention. The music is almost perfect and so are the lyrics. Notice the way KK makes a weeping sound as he begins each verse and how he almost breaks down in the last two lines of the song. Whether this was planned or not, there is no way of knowing. It sounds very real like KK is really about to cry, but then again, that was KK's specialty. He was the king of emotions. A couple of significant things to point out: This was one of the last movies in which KK sang for Amitabh before they had their tiff. It would be years before KK sang for Amitabh again, (they patched up during Toofan and Ganga Jamnua Saraswati) Not so coincidently, Amitabh's career also started nosedive after this movie. Another thing to point out is Prakash Mehra's writing talent. Mehra actually started out as a lyricist in a couple of films (I distinctly remember reading his name in a couple of B&W movies) before becoming a director. I guess the lyricist in him never died because he continued writing at least one and sometimes more songs in each of his movies. I genuinely feel that this may have been his best outing as a lyricist. In some ways, the lyrics are reminicsent of Chingari Koi Bhadke from Amar Prem and I mean that in a good way. All in all, a near-perfect song!
TERA CHEHRA MUJHE GULAB LAGE
Movie: Aapas Ki Baat (1981)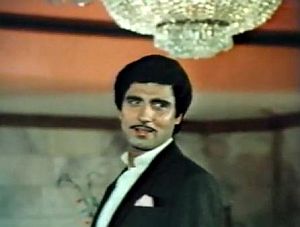 Surprise surprise! The music is of this beautiful ghazal is by none other than Anu Malik, now well-known for being a more westernized composer. Who would have thunk it? 🙂 Anu Malik (or at the time Annu Malik), had just started his career a few years back (Hunterwali in 1978) and had one significant film, Poonam (1980), to his name. In a perfect world, this ghazal, written by Hasrat Jaipuri, should have made him a hot prospect in Bollywood. And if it had, who knows, maybe he would have stuck to being an Indianised composer. But it was not meant to be. Whether it was because this movie came out during the disco-era in Bollywood and people wouldn't accept such songs as quickly or because the movie itself proved to be a dud, who knows? Either way, the music of this movie did not get its due and neither did KK's ghazal. One thing to watch out for is KK's modulation in the song. He goes from whispering to being boisterous to whispering and back to boisterous at various places in the song as per the requirement of the song. Amazing! If this song had come out in the 60s or early 70s it may have had a more significant shelf life.
MARNE KI DUAYEN KYUN MAANGU
Movie: Ziddi (1948)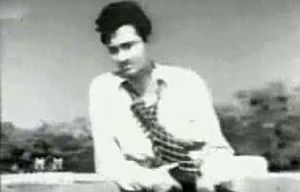 A significant song for so many reasons, one doesn't even know how to begin to list them. This was of course, KK's first full-fledged song and first solo in movies ever. Before that, his repertoire consisted of having one or two lines in a few songs in the 1940s and two solos recorded for a private album. It's no secret that KK idolized the legendary K.L. Saigal and it's nowhere more evident than in this song. The amazing aspect however, is that KK's voice, however much Saigal-esque it is, still suits Dev Anand. KK's voice was still very young but then so was Dev Anand. Seeing this song, it's no surprise that Dev Anand and KK formed a life-time relationship only to end after KK's death. It's also important to note that considering this was KK's first full song, and he had no formal training, he did a darn good job! In the more recent years, ardent ghazal lovers probably recognize this ghazal as sung by Habib Wali Mohammad albeit, to a completely different tune.
HAMARI ZID HAI KE DIWAANGEE
Movie: Pyar Ajnabee Hai (Unreleased)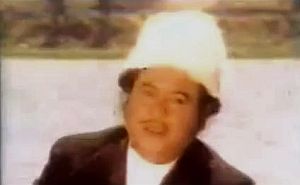 I guess this one comes with an asterik as the movie was never released. However, any true KK fan has heard at least one verse of this beautiful ghazal, composed by KK himself as the movie was his home production. How this song came to be makes it even more interesting. Amit Kumar recalled the moment in an interview: The unit of Pyar Ajnabee Hai was recording the title song (also a wonderful song by KK and in a female version, Lata Mangeshkar) when the recording was finished. All of a sudden, KK told Yogesh, the lyricist and his musicians to stick around as he had an impromptu idea for a song. He told Yogesh of the tune he had just thought of and told him he wanted a song with words like junoon, diwangi, luft. He got someone on the keyboard and guitar and told them what was going on his mind. As KK hummed out the tune, Yogesh started writing the lyrics right then and there! When someone pointed out that there was no situation for a song like that in the movie, KK's response was, to hell with the situation! I just want to record this song! And so a real gem was born! It's a shame that the full song was never released. If it was, I think KK's legacy as a singer would have been even greater than it is today!
YUN NEEND SE WOH JAANE CHAMAN
Movie: Dard Ka Rishta (1982)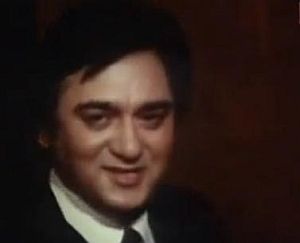 What to say about this wonderful song? This is another song that is remembered by KK's most loyal fans but seems to have been forgotten by the general public. A beautiful ghazal composed in raag Hameer (corrections are welcome if I'm wrong) by the late great R.D. Burman, KK's sheer voice ability in this song is something to watch out for. For one thing, he seems to have modulated his voice to sound just like Sunil Dutt (something KK was well known for doing). Listen to the way KK sings "jaag uthi hai." It sounds just like Sunil Dutt is singing! Another thing is something that KK rarely did in other songs is taking harkats. But in this song, my my my! It proves that KK, despite his lack of classical training, could hold his own against anyone, at least when it comes to playback singers. Even Anand Bakshi, who was known for writing lyrics for the "common man," seems to have stepped up his game and written some mind blowing lyrics. A semi-classical song which is also a ghazal with good lyrics in which KK takes harkats; what more do the critics want???
So there you have it. Some of KK's best ghazals which prove that he was capable of singing them. Of course, like I mentioned in the beginning of the article, these are certainly not all of KK's ghazals. Feedback, be it negative or positve, is always appreciated!