Suhane geet brings you – Zarurat hai zarurat
TOTAL FUN:Yes. This is something that today's public truly needs- unadulterated and simple fun in its purest form. But sadly, this is not something available in abundance in today's world. So frustrated with the mundane but hectic, consuming but banal lives we lead, we turn to the wonderful world of cinema to change the mediocrity […]
TOTAL FUN:Yes. This is something that today's public truly needs- unadulterated and simple fun in its purest form. But sadly, this is not something available in abundance in today's world. So frustrated with the mundane but hectic, consuming but banal lives we lead, we turn to the wonderful world of cinema to change the mediocrity and hopelessness of our lives. The ability to lose ourselves into someone else's fun life is something that we all wish to do.
But today's cinema has become more technical – things like special effects, "Seriousness", star values and a number of other matters have taken the priority and has made the industry very conscious. Gone are the days when you could just kick back and enjoy the crazy antics of Kishore Kumar, the manic choreography to which Jeetendra Jumped, the unconscious and untouched beauty of Madhubala- today its all about having firang dancers and scantily clad women a la Bond.
iz-Z7mgyDu8
In such circumstances, one wishes to return to the golden age of cinema; to relax and unwind while watching a simple, but amazing movie. One such movie was made in the year 1962- Man Mauji. It stars Kishore Kumar and Sadhana with a supporting cast of very credible actors. The movie is a story about a young girl who is in love with a thief. A charming and touching movie, it makes you feel great.
There is a song in the film- Zaroorat Hai, Zaroorat Hai sung by Kishore Kumar. The whole picturization and effect is so sweet more than anything else, it makes you chuckle at his antics. He is trying to cheer up a sullen Sadhana in the song and succeeds in doing so.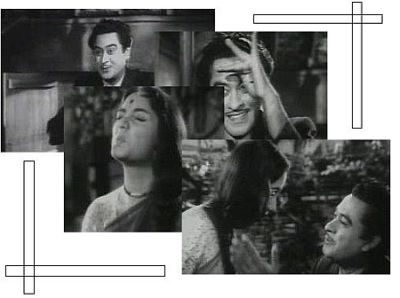 The lyrics are simple and lighthearted. Written by Rajinder Kishan, the song creates a mood of playful bantering and teasing. In the song Kishore Kumar is singing aloud about his urgent requirement for a wife- someone who is skilled, womanly and most importantly, serves her husband. It is all in jest and you can see Sadhana making faces at him. The song further goes on to elucidate the beauty of the woman he desires, who is Sadhana; about her hair, her smile, her affection. It makes you chuckle aloud too.
The music, created by Madan Mohan is in complete sync with the lyrics- adding to the mood. Playful and lively, it makes you unconsciously tap your foot to the song. Wonderful work by a wonderful music director.
This article would be incomplete without mentioning the lead couple. Kishore Kumar and Sadhana have done such a good job with this song. You forget that they are big stars. In the song, they are just two people in love indulging in mock anger and appeasement.
Such songs draw you into their world and make you experience the situation- something that we all long to do. And today, we desperately need such songs to make us believe in fun again – inki sakth zaroorat hai!
Lyrics of the song –
Zaroorat Hai Zaroorat Hai, Sakht Zaroorat Hai!
(Zaroorat Hai Zaroorat Hai Zaroorat Hai
Ek Shrimati Ki, Kalaavati Ki, Sevaa Kare Jo Pati Ki ) – 2
Zaroorat Hai Zaroorat Hai Zaroorat Hai
(Hasin Hazaaron Bhi Hon Khade, Magar Usi Par Nazar Pade) – 2
Ho Zulf Gaalon Se Khelti, Ke Jaise Din Raat Se Lade
Ho Ho Ho Ho
Adaaon Mein Bahaar Ho, Nigaahon Pe Khumaar Ho
Qubool Meraa Pyaar Ho To Kyaa Baat Hai
Zaroorat Hai Zaroorat Hai Zaroorat Hai…
(Jhatak Ke Gesoo Jahaan Chale, To Saath Mein Aasmaan Chale) -2
Lipat Ke Kitne Bhi Paanv Se, Yah Poochhte Ho Kahaan Chale
Ho Ho Ho Ho
Pyaar Se Jo Kaam Le, Hans Ke Salaam Le
Vo Haath Meraa Tham Le, To Kyaa Baat Hai
Zaroorat Hai Zaroorat Hai Zaroorat Hai…
(Itar Mein Saansen Basi Basi, Vo Mastiyon Mein Rasi Rasi) – 2
Zaraa Si Palken Jhuki Jhuki, Bhaven Ghaneri Kasi Kasi
Ho Ho Ho Ho
Phoolon Mein Gulaab Ho Khud Apnaa Javaab Ho
Vo Pyaar Ki Kitaab Ho To Kyaa Baat Hai
Zaroorat Hai Zaroorat Hai Zaroorat Hai…
Haan Haan! Shrimati Ki
Ho Ho ! Kalaavati Ki
Sevaa Kare Jo Pati Ki
Zaroorat Hai Zaroorat Hai Zaroorat Hai
Sakht Zaroorat Hai!
© Copyrighted to Yoodleeyoo.com All Rights Reserved.