K for Kishore: Hum To Mohhabat Karega (4th Episode)
Recreate Retro and Romance Every man is a poet in love. This eminent saying by Shakespeare came to life in this episode of K for Kishore. It turned out to be a live and kicking show, little more enjoyable than the previous one. As the rule of the show the second group of participants called […]
Recreate Retro and Romance
Every man is a poet in love. This eminent saying by Shakespeare came to life in this episode of K for Kishore. It turned out to be a live and kicking show, little more enjoyable than the previous one. As the rule of the show the second group of participants called 'Bangdoos' started a live and kicking show.
[wp_youtube]43QgqZwtiE8[/wp_youtube]
Nayan Rathod – Dilbar Mere Kab Taq
Bangdoo Nayan Rathore started with the number from a very comic movie "Satte Pe Satta". How can any one not woo to the tune of "Dilbar Mere Kab Tak Mujhe"? Nayan even wooed the judges quite the same way a strong-willed Amitabh Bachchan wooed the very beautiful Hema Malini. He paid tribute to the legendary singer with a shayari, which reminded one the way Kishore Kumar used to keep everyone engrossed with his magical voice. The spirit of Kishore Kumar still seems to linger. He got a nice total of 22, with the judges either liking the beginning or for setting the mood for the show, and as expected with Amit Kumar, he found the finishing of the song missing!
[wp_youtube]vrE6Av1k_wc[/wp_youtube]
Shuhas Sawant – Ek Ajnabi Haseena Se
Nayan was followed by Bangdoo Suhas Sawant who is born romantic and seems to fall in love as many times as he sings a romantic song but who is to be blamed when the romance is so much in the air. Trying to search for his true love, he sang "Ek Ajnabi Haseena Se" (from the movie "Ajnabi"). He was applauded by Bappi Lahri with his singular way of appreciating people with his music. His passion for music just came to the surface with "Oh Pahli Baar Mera Haath Pakad Kar Boli". He was greatly admired by all the judges. He scored a total of 21. Amit Kumar felt Nayan has the ability to sing better with more practice.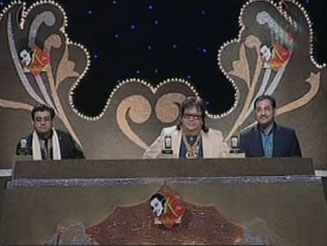 [wp_youtube]DcwHpjvMA1A[/wp_youtube]
Chintan Bakiwala – O Hansini Meri Han
Bangdoo Chintan Bakiwala sang the very very melodious "Oh Hansini". The lyrics of the poem, praising his lady love and speaking highly of hope and expectation is from the movie "Zahreela Insaan". The true lover of romance admitted his love for Kishore Kumar and his versatility. With mixed opinion from the judges, Chintan managed to collect a score of 20. He was obviously enjoying himself singing on the stage, but he was marked out by Amit Kumar as "Angdosh", as a flaw that hampers one's singing.
[wp_youtube]R5cVhilrXKM[/wp_youtube]
Kshitij Wagh – Mere Diwane Pan Ki Bhi
The next bangdoo was Kshitij Wagh, who sang a number from the romantic movie "Mehboob ki Mehndi", "Mere Deewanepan Ki Bhi Jawaab Nahi". This song is sung with so much passion from Kishore Kumar that it is simply very difficult to recreate the same enchantment and pure magic. The same happened with Kshitij. The judges though were not very impressed. He got an average total of 19.
[wp_youtube]bIVBrWjRCUA[/wp_youtube]
Saurabh Ghosh – Hamen Tumse Pyar Kitna
The show had a surprise feast for the audience with Bappi Lahri and Sudesh Bhonsle singing "Aaja Aaja" and Asha dancing as she had done years back. This act was followed by a true Kishore Kumar disciple bangdoo Saurabh Ghosh. He sang the ultimate romantic song "Hame Tumse Pyar Kitna" from the movie "Kudrat". His trick worked and he was awarded with 23, though Supriyo seemed be finding the judges being partial towards Saurabh as he had the get up of a pure Bangali gentle man. Amit Kumar was not fooled by this act and he still commented him of missing two beats.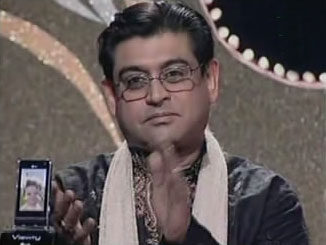 [wp_youtube]tEAqLvCGvuE[/wp_youtube]
Chetan Rana – Yeh Jo Mohobbat Hai
The final bangdoo was Chetan Rana. He sang one of the most romantic song from the movie "Kati Patang", "Yeh Jo Mohhabat Hai". He also received mixed comments from the judges. Asha found him reminding her of the movie, Amit Kumar found his tone not cooperating with the mood of the song, Sudesh liked the beginning and Bappi Lahri as usual being kind and appreciating. He got a total of 18.
[wp_youtube]aCXMGpevFLM[/wp_youtube]
Pyar Manga Hai Tumhi Se – tie between Pramod and Chetan
The show also marked the end of one fan of Kishore Kumar to be eliminated from the stage. The unlucky participant happened to be Pramod. He shared the danger Zone with Apurva, Vinod and Chetan. The studio audience and Judges saved Apurva and Vinod, where as the tie between Pramod and Chetan was solved with the song "Oh Raahi". Pramod's tone was not supporting him, and probably he new that his performance on the stage was coming to an abrupt end. He received an LG mobile phone.
The show ended with hope for better performance, which definitely meant a better time coming up for the audience. Looking at the great time we are having, enjoying the timeless music by Kishore Kumar, we definitely look forward to the next weekend.
Also, check these:
[wp_youtube]SEWAydrjqCY[/wp_youtube]
Aaja Aaja Mein Hun Pyar Tera in Kishore Da style. The show had a surprise feast for the audience with Bappi Lahri and Sudesh Bhonsle singing "Aaja Aaja" and Asha dancing as she had done years back.
[wp_youtube]nATbdrsddLg[/wp_youtube]
Amit Kumar says Kishore Da discourages too much movement while performing
[wp_youtube]OJ45sicxc9A[/wp_youtube]
Amit Kumar remembers Ashok Kumar discouraging Kishore Da
© Copyrighted to Yoodleeyoo.com All Rights Reserved.