Excerpts from an article on Hrishida's classic – Musafir
We pay our humble respects to the Hrishida a great director – here is an excerpt from an article written by Sukanya Verma (on rediff.com) It may have the makings of a classic. A cult subject. An ensemble cast. Superior technical quality and inspired direction. Yet, sometimes, a film fails to receive the recognition it […]
We pay our humble respects to the Hrishida a great director – here is an excerpt from an article written by Sukanya Verma (on rediff.com)
It may have the makings of a classic. A cult subject. An ensemble cast. Superior technical quality and inspired direction. Yet, sometimes, a film fails to receive the recognition it deserves for inexplicable reasons.
"Hrishikesh Mukherjee's Musafir is one such film.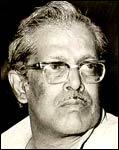 Musafir opens with Balraj Sahni's voiceover and the camera shifting to a scruffy blockhouse: "Lakh lakh makaan aur inmein rehnewale karodon insaan. In karodon insaan ke sukh dukh, hasne rone ke maun darshak hain yeh maun makaan. Theek musafiron ki tarah yahan log aatein hai, rehte hain aur chale jaatein hain. Yahin janam hota hai, vivah hota hai aur hoti hai mrityu. Musafir teen kirayedaron ke jeevan chakron ki kahani hai jo ek ke baad ek is makaan mein rehne aate hain [Scores of people live inside these houses. They are mute spectators to the ups and downs of their lives. People come here like travellers and leave. Some are born here. Some get married here. And some die here. Musafir is the story of three such tenants who came to live in this house]."
Story # 1: A young unmarried couple elopes and rents this house. Their conversation reveals that the girl's uncle was planning to marry her off to an old man. The two marry the next day and begin their new life. But both Ajay (Shekhar) and Shakuntala (Suchitra Sen) wish to be accepted by the former's parents who are against this union. One day, Ajay's parents (Bipin Gupta, Durga Khote) come to the house to disown him. To their surprise, Shakuntala turns out to be an ideal daughter-in-law. All's well that ends well.
Story # 2: An old man (Nazir Hussain) arrives with his widowed pregnant daughter-in-law (Nirupa Roy) and youngest son, Bhanu (Kishore Kumar). The old man is struggling to make ends meet, having just lost his eldest son. All hopes are set on Bhanu. Bad luck continues as Bhanu fails to find employment. In a fit of frustration, Bhanu consumes poison. The next morning when he wakes up, he is alive and kicking. The poison was adulterated. More good news follows: he has a job and his Bhabhi delivers a baby boy.
Story # 3: The third tenant is a crabby barrister (Paul Mahendra), his widowed sister Uma (Usha Kiron) and her handicapped little boy (Daisy Irani). In the previous two episodes, the mention of a mysterious violin player keeps coming up. Here, his identity is finally revealed. Pagla Babu, as the nearby tea vendor calls him, is a homeless wanderer who plays the violin for his own satisfaction. Pagla Babu aka Raja (Dilip Kumar) turns out to be Uma's ex-flame. Raja is dying of a fatal disease but he gives hope to Uma's son, also named Raja. He promises that the day a red flower blooms outside his window, the boy will begin to walk. And walk he does.
Although episodic in nature, the stories of Musafir are interrelated. A set of characters like the landlord (David), the teaseller (Mohan Chhoti), the neighbouring housewife and her daughter (Baby Naaz) and the postman are common to all the stories. The house itself is an important character playing a pivotal role.
The narrative is rich with motifs. The seed that Shakuntala sows in the first story germinates in the second and flowers in the third. As does life which runs full circle — marriage, birth and death.
For his debut film as director, Mukherjee assembled quite a cast. Right from the main leads to the smaller characters, he extracted a controlled and convincing performance. The characters are normal and perform naturally without being unnecessarily melodramatic or gregarious. "
source: http://in.rediff.com/movies/2004/feb/12corner.htm