Remembering KK on his 78th Birthday: Retracing the Journey of his Musical Career
Madhavi writes……. Part 1: The Very Beginning Kishore Kumar would have been seventy-eight this year today if he had not died so inopportunely twenty years ago, at the peak of his career, leaving so many of his fans bereft. He ruled the Hindi film industry in the seventies and eighties but one tends to forget […]
Madhavi writes…….
Part 1: The Very Beginning
Kishore Kumar would have been seventy-eight this year today if he had not died so inopportunely twenty years ago, at the peak of his career, leaving so many of his fans bereft. He ruled the Hindi film industry in the seventies and eighties but one tends to forget that he had been in the industry for much longer than that. He began his career as early as 1948 and had to struggle for twenty long years before he reached the sensational success that began with his roller-coaster ride from Aradhana (1969) onwards initiated by the successful partnership with R.D. Burman and Rajesh Khanna after which he sang for nearly every successful contemporary hero from Jeetendra to Amitabh to Dharmendra to Shashi Kapoor and Rishi Kapoor apart from singing for some complete non-entities who still survive in the Chitrahaar DVDs of Kishore Kumar solely because of the incredible songs that Kishore sang for them.

While the two later decades are full of glittering gems, as well as some duds, the earlier two decades, when he was struggling to establish himself as a singer, amidst a number of other brilliant singers, tends to get ignored when one writes about his career, the pro-Kishore camp insisting and concentrating on how he dominated playback singing in the seventies and eighties and the detractors insisting and concentrating on how Hindi film music took a plunge into abysmal depths seventies onwards. And providing fodder to the myth-building is the larger-than-life personality of Kishore Kumar, with his hugely successful film career in the fifties and his determined attempts to foil his own career, his completely eccentric behavior with his producers, his obsession with money, his fracas with the Indian government over tax issues, his four marriages, his anti-social behavior, his hugely successful stage shows, and his odd and serious attempts at directing films which were practically one-man shows with him attempting to write the lyrics and the stories of his films, apart from acting, directing and singing in them!
Here is a brief attempt to look at how this colorful genius with a golden voice began his career, and then maybe to continue to look at his output in each decade beginning with the fifties.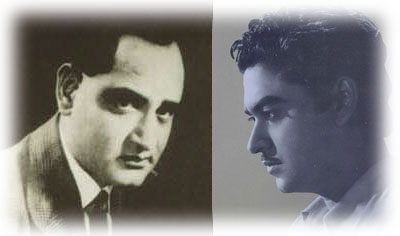 A self-confessed fan of Saigal, a couple his solos ("Jis Dil Ne Mohabbat Ki" and "Bhoolne Waale") are available from a private album that was composed in 1945, songs that palpably show Saigal's influence on Kishore. He began his film career with a solo " Marne Ki Duayen Kyun Mangun" composed by the famed Khemchand Prakash in 1948 which again is heavily influenced by Saigal (KP's pre-Mahal success was his Saigal dominated album Tansen-1943, which must have reinforced the Saigal influence); as is the duet with Lata from the same movie, " Ye Kaun Aaya". While Lata would go on to dizzying heights of popularity with her next song for Khemchand Prakash in Mahal the very next year, the road to success was much harder for Kishore.
In 1950 he sang for four films under four different music directors – Muqaddar for Khemchand Prakash again (this time in partnership with Bhola Shreshtha), Pyar for S.D. Burman and one stray number for each of the albums of Chitragupt's Hamara Ghar and Hansraj Behl's Khiladi, which had elder brother Ashok Kumar as the hero. The early partnership of Kishore Kumar and S.D. Burman began when Dada Burman who was visiting elder brother Ashok Kumar, and heard Kishore singing inside and mistook it for a Saigal song. He shrewdly advised Kishore to develop his own style, an advice that Kishore took to heart and one sees how quickly he shifted to a much more personal style as early as 1950 in both the albums of Khemchand Prakash ( Muqaddar) and S.D. Burman (Pyar). In Muqaddar he was the lead actor and got to sing four duets with Asha, one sees him come out on his own in songs such "Aati hai yaad humko Janwary Farwari " and don't forget to check out "Ek Do Teen Char" for some great early yodeling by KK. S.D. Burman surprisingly gave him all the songs in Pyar which has Raj Kapoor and Nargis as the lead pair and Kishore got to sing a variety of songs; he had two duets with Geeta Dutt-a mast one ("Ek Hum aur Doosre Tum" which has Geeta and Kishore pitting their skills in the lovely humming that the song begins with and which somehow reminds me of "Thandi Hawayen") and a sad one("O Bewafa Ye To Bata"), one duet/group song with Shamshad Begum ("Jalti hai Duniya" seems like a boat song), and two solos…an early road song ("Kachhi Pakki Sadkon Pe" complete with cham cham, whistling, bhum bhum hai hai..etc) and a sad one ("Mohabbat ka chota sa"). Even though he seems to have caught the eye of two great music directors, Khemchand Prakash and S.D . Burman, Kishore was yet to be taken as a serious singer.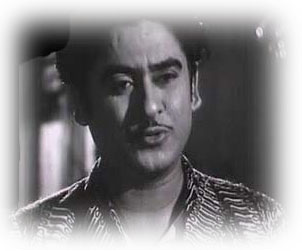 The next year had Kishore singing two lovely tracks for Madan Mohan in Ada ("Dil Gaya" and the peppy competition duet with Shamshad "Jo Tum Karo Main Kar Sakta Hoon Badhke" giving ample scope for histrionics…and ending with KK doing a Saigal parody and finally losing to Shamshad) Both were probably sung by the hero's sidekick, and though Madan Mohan's favorite male singers were Talat and Rafi, he has composed a surprisingly large number of songs with Kishore Kumar too. And the same goes for Chitragupt who composed some beautiful songs for Kishore…- Kishore sang a duet with Shamshad and one with Talat for Hamari Shaan.. During this time he seems to have sung a number of duets with Shamshad Begum, a pairing which sparks with effortless, mischievous inflections, what a pity that Shamshad did not get to sing more duets with Kishore in later years. S.D. Burman continued to give him some lovely tracks in his albums this year, in Baazi and Bahaar he gave him a solo each ( "Mere Labon Pe" and "Kasoor Aapka") and in Naujawan he gave him with two duets, one with Lata (" Dekho Ji") and one with Shamshad Begum ("O Piya O Piya")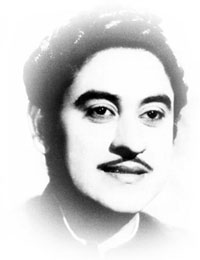 In 1952 Kishore started appearing in films (Najaria, Kafila, Chham Chhama Chham Chham, Hamari Shaan) not daring to object to his elder brother's wishes, and by a strange twist of fate, his acting career took off much faster than his singing career, a twist that Kishore resisted with his own particular brand of eccentricity trying to stymie his own career, by acting more and more outrageously in his roles and outside them. But whatever he did (in front of the camera, at least), was eagerly lapped by both the directors and producers and ultimately the audience. He was soon to be recognized as a nightmare by his producers, but that did not stop his singing career from becoming inextricably bound with his acting career. Behind the childish capers of Kishore, however, one recognizes a passion for singing that foresaw that his acting career would typecast him and limit the range of his singing and ultimately choke his singing career. It is interesting to note that his singing career finally took off only after his acting career took a backseat in the sixties. It is equally interesting to note that the other two successful singers of the fifties, Talat Mehmood and Mukesh had both tried unsuccessfully to establish themselves as actors, attempts that failed miserably and which cost them to lose some steam before they abandoned the attempt and moved back to playback singing. The only completely successful combination of an acting and a singing career was perhaps achieved by Saigal and it is strange that Kishore, despite being a great fan of Saigal, did not seem to want it, and yet did juggle them for two decades.
What Kishore saw as a detraction was perhaps more complicated than that, his acting career did get him to appear in complete albums, a feat that would have been much more difficult to achieve considering the number of star players that were in the field in the fifties (Hemant Kumar, Talat Mehmood, Rafi, Mukesh), and the distinct preferences that the dominant music directors had for particular singers, especially when one remembers that apart from S. D. Burman, none of the music directors were willing to consider him seriously at the time.
But the rest of the fifties, comprising the inextricable combination of Kishore the actor and Kishore the singer, and its advantages and disadvantages deserves a separate installment….
© Copyrighted to Yoodleeyoo.com All Rights Reserved.