Kishore Kumar and S D Burman in the Fifties : Recognizing a Genius.
by Madhavi Sachin da mujhe Baar baar samjhate…Abe Kishore …Ye gaa…aisa gaa…feel karke gaa…expression se saath… jyada murkiya taan maarne se kuch nahin hota…seedha gayega to gana public ko acchha lagega …Samjha naa… In a surprisingly insightful interview in the week following S D Burman's death, Kishore Kumar pays his tribute to him, recognizing and […]
by Madhavi
Sachin da mujhe Baar baar samjhate…Abe Kishore …Ye gaa…aisa gaa…feel karke gaa…expression se saath… jyada murkiya taan maarne se kuch nahin hota…seedha gayega to gana public ko acchha lagega …Samjha naa…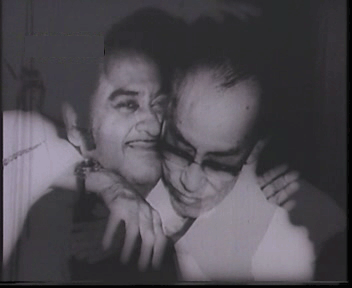 In a surprisingly insightful interview in the week following S D Burman's death, Kishore Kumar pays his tribute to him, recognizing and wonderfully capturing Dada Burman's colorful personality in his own inimitable way, mimicking his accent with flourish, and, more importantly, recognizing the nuances of his personality delicately, with warmth and a depth of perception that seem surprising in a man who cultivated and indeed revelled in being outrageously eccentric and childish. In this interview, Kishore recalls various encounters with Dada which present a vivid picture of his personality and inextricably linked to that, as Kishore clearly identifies it, was Dada's music. His self-centeredness, his childlike obsession with music, his almost proprietary concern for his singers vocal chords and his whole-hearted delight when a singer achieved his vision, reveal the mystique of S D Burman's music…there is a wholeness, a directness, a single minded focus to it, grounded in a hard core of practicality and musical rigor that Kishore aptly captures in the word "innocent." And it is this that he defines as his legacy from S D Burman.
S D Burman was a shrewd music director who exploited and showcased the strengths of some of the great singers of the time, he got some of the best songs not only from Rafi and Lata but also Manna Dey, Hemant, Asha and Geeta Dutt. He was no consistent mentor to Kishore, and as various anecdotes and indeed his albums reveal, he juggled and kept all the top singers on their toes knowing exactly what he wanted from them and indeed getting it from them. He was certainly not scouting for talent or partnerships but when he saw talent he pursued it singe-mindedly and got results. He saw talent in Kishore, and he got him away from Saigal's shadow and he taught him a simple and important lesson… "feel karke gaa …expression ke saath… " And it remained Kishore's greatest strength, when you hear him sing, he makes you feel with him.
Khemchand Prakash was one of the first music directors to recognize the potential of Kishore's voice in his two albums Ziddi (1948) and Muqaddar (1950), where Kishore got the chance do more than the sole clown act that most music directors in the fifties used him for. Not that Kishore did not have wonderful songs in the fifties, but the fact that his acting career far outshone his singing career at this point was, as Kishore was the first to realize, a serious limitation of his potential as a playback singer. It was a complicated situation, his surprise success as a screen hero ensured that he got a steady stream of offers to sing for his own roles, and got entire albums with himself as the lead singer, but it also meant that he only got to sing songs for his screen persona of an eccentric, comic hero and the music directors who worked with him did not necessarily consider him a serious playback singer.
Kishore's sang roughly 200 songs in this decade, with S D Burman leading the music directors in giving him the maximum number of songs. Even though his output with O P Nayyar and Madan Mohan follow close behind, a major difference in the albums with these directors is that they were mostly songs that Kishore sang on the screen for himself. Both the constraints of the roles that Kishore played on the screen and the fact that the directors had their preferred singers that they were far more comfortable with, make a distinct difference in Kishore's songs with these directors that is highlighted by the sheer brilliance of the Kishore-SD output in this decade. While there are many Kishore treasures to dig out in this decade – the absolutely delightful duets of Kishore and Shamshad Begum to mention just one of them – it is important to remember that if one takes Dada Burman out the mix, Kishore Kumar's output in this decade would seem very lopsided…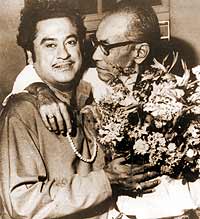 For example, one would have to look very hard for the serious/sad/intense/poignant songs that Kishore got to sing in this decade. Some of the songs that come to mind are those that perhaps only KK fans would remember.
Woh Meri Taraf Yun Chale Aa Rahein Hain (Kafila 1952)
Husn bhi hai udaas (Fareb 1953)
Manzil Kahan Meri (Miss Mala 1954)
Tere Jahan Se Chal Diye (Rukhsana 1955)
Chhota Sa Ghar Hoga(Naukri 1955)
In the romantic/intense category one could pick out perhaps:
Rootha Na Karo (Rootha Na Karo 1957)
Nakhrewali (New Delhi 1956)
Ae Haseenon Nazneenon(Chacha Zindabad 1959)
Meri Neendon Mein Tum(Naya Andaz 1956)
Yeh Raatein Yeh Mausam(Dilli Ka Thug 1958)
On the other hand it would be difficult to contain the list of comic/peppy/outrageous/mischievous solos and duets that Kishore belted out in this decade, here is just a brief list that is easily expandable:
Dil gaya mera(Ada 1951)
Hubaa Hubaa…Ye Duniya Suitboot Kee Baaboo(Ashbar 1953)
Chhan Chhan Chhan Chhan(Char Paise 1953)
Aadha Titar Aadha Better,Wah Re Mere Sher (Lehren 1953)
ABC Mere Sapno Mein Aana(Ilzaam 1954)
Tikadambazi(Adhikar 1954)
Aararum Tarerum (Awaaz 1954)
Ina Mina Dika (Asha 1957)
Aaj Na Jaane Pagal Manwa(Begunaah 1957)
Phoonk Phoonk Kar(Bandi 1957)
Dekh Aasman Mein(Shararat 1959)
And yet from all these songs, the two that perhaps have popular appeal would be "Ina Mina Dika" and " Ye Raatein Ye Mausam".
Contrast this to the "hit" songs that Dada Burman and Kishore created in the fifties:
The carefree, Funtoosh track, "Aye Meri Topi Palat Ke Aa," and the starkly contrasting "Dukhi Man Mere" (that S D Burman obstinately insisted on Kishore singing), the breezy and poignant "Jeevan Ke Safar Mein Rahi" (Munimji 1955), followed by "Hum Hain Rahi Pyar Ke" and "Aankhon Mein Kya Ji" from Nau Do Gyarah(1957), and the gorgeously romantic Paying Guest (1957) tracks: "Hai Hai Ye Nigahen", "Mana Janab Ne Pukara Nahin" and "Chod Do Aanchal." And then finally, the incredible Chalti Ka Naam Gaadi (1958) album where Dada and Kishore create magic with precisely what Kishore felt was his albatross… singing for himself. It is an album for an out-and-out comedy… and yet it showcases the glittering multifaceted genius in all his glory. From the wacky and racy "Babu Samjho Ishaare" and "Hum The Wo Thi Aur Sama Rangeen Samajh gaye na" to the pulsing duets with Asha, the operatic zanyness (for want of a better phrase!) of "Paanch Rupaiyya Barah Aana" and the teasing, romantic "Haal Kaisa Hai Janab Ka" The crowning glory of the album is the sensuous, evocative and yet teasing "Ek Ladki Bheegi Bhaagi Si," It is an impossible scene with an impossible pair, the glorious, drenched Madhubala and Kishore Kumar in his ridiculous comic-mechanic getup…beating up a rhythm with his wrench and hammer… in a garage! The slow sensuous opening of the song that is artfully deflected into a soft teasing is brilliantly rendered by Kishore's voice that dramatizes all those complex emotions and the song works…it is one of the glorious moments of Indian cinema …it is impossible to imagine another pair or another situation in this song.
Dev Anand was looking for a new voice to define his screen persona and the SD-Kishore combination pretty much defined him in this decade as the youthful, romantic hero who woos his heroines with sophisticated flair. It is indeed difficult to imagine a rustic Dev(the Munimji disguise notwithstanding), and I often feel that Dada curbed or at least reworked his folksy touch in his Kishore songs in this decade to give Kishore's voice an urban slant that helped distinguish his style initially from other singers.
For the romantic duets S D Burman used Shamshad and Geeta occasionally but ultimately paired him with Asha, not Lata. ("Dekho, Dekho Ji" from Naujawan is a notable if a not very noteworthy exception and "Dil Mein Hai Baat Aisi" does not really qualify as a duet with Kishore only contributing "Haanjis" in the song. He would use the Lata-Kishore pair heavily and to exquisite effect much later, in the seventies. )"Aankhon Mein Kya Ji" "Chod do aanchal" "Paach rupaiyya barah aana" and "Haal Kaisa Hai Janab Ka" are Asha and Kishore at their effervescent best: mischievous and melodious, effortlessly getting into the mood and the moment.
The fact that these songs were commercial successes as Dada had shrewdly envisaged was just the icing on the cake. The cake was really the enduring appeal and immediacy of these songs. There is a certain confidence in Kishore's renditon of S D Burman's songs in this decade, he does not sound like a singer on the threshhold of achieving his potential, he is already expressing it in "Jeevan ke safar mein raahi" and "Hum hain rahi pyar ke." There is an immediacy that lends a warmth to the comic tracks of "Paach Rupaiyya" "Hum The Wo Thi" and "Babu Samjho Ishaare." There is finally, the "Kishore" magic in the nuanced, sensuous strains of "O Nigahen Mastana" and "Hai hai hai ye nigahen" and the stunning "Ek Ladki bheegi bhagi si" that make these songs easily comparable to Kishore's later, numerous triumphs in the seventies.