Kishore Kumar-Gulzar : Deep Voice in Deep Poetry
By Arghya Dutta " Jhuki huyi nigaah mein kahi mera khayal tha…." That "Khayal" or "thought" of Gulzar sahab was always depicted with a serene voice on screen by a person called Kishore Kumar. The poetic impact of Kishore Kumar and Gulzar on the movies are everlasting and unforgettable. The deep voice of Kishore Kumar […]
By Arghya Dutta
" Jhuki huyi nigaah mein kahi mera khayal tha…."
That "Khayal" or "thought" of Gulzar sahab was always depicted with a serene voice on screen by a person called Kishore Kumar. The poetic impact of Kishore Kumar and Gulzar on the movies are everlasting and unforgettable. The deep voice of Kishore Kumar coupled with the words of Gulzar has always been special. Be it the music of Rahul Dev Burman, Salil Chowdhury, Hemant Kumar, Khayyam or Rajesh Roshan- the resultant output has been mesmerizing.
Their association can be traced back to 1968, with Bimal Roy's "Do Dooni Char". Gulzar sahab's thoughtful lyrics of "Hawaon pe likh do hawaon ke naam, hum anjaane pardesiyon ka salaam" coupled with Hemant Kumar's melodious tune and an open throated soulful Kishore Kumar's voice leaves a memorable song dedicated to the nature. The breezy, wild lap of Mother Nature was never been depicted in such a detailed way- "Yahan subah se khela karti hai shaam…"– how true! Makes you imagine a village road, twisted and turned, to take you to the bank of a river with green grass and huge shadows of trees.
Sit alone on a boat at the dusk, and the first song which you would love to grasp is "Woh shaam kuchh ajeeb thi, yeh shaam bhi ajeeb hai, who kal bhi paas paas thi who aaj bhi kareeb hai"… Feels like taking a aloof ride on a boat on a still river and thinking and getting immersed in the beauty of the twilight with bygone thoughts enveloping your mind. Who did a better job? Gulzar with his pen, Hemant Kumar with his tune or Kishore with his vocals?? I would say, all of them. A symmetry between these three makes this song from "Khamoshi"(1969) one of the most beautiful soulful songs in Hindi films.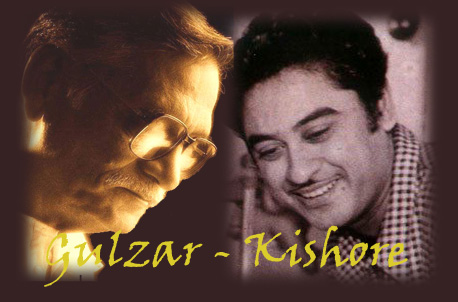 Gulzar's expression on life has mostly been indirect.. Be it grief, be it happiness, be it loneliness or be it appreciation on beauty, he is often indirect in expressing. But a direct expression by Gulzar could create hisory with "Koi hota jisko apna hum apna keh lete yaaron, paas nahi to door hi hota lekin koi mera apna".. Compare this with other poetries on loneliness by this poet, you can feel there is that direct expression which makes this song plain and simple and everlasting. Gulzar had earlier worked with Salil Chowdhury for Anand, but this song of "Mere Apne" was special.. Special to many.. For Kishore, it was a ladder to prove his mastery of singing on a 12 maatra composition from the rhythmic master Salil Chowdhury… How wrong was Salil 17 years back on Kishore! Spellbound by the rendition and capability of Kishore, Salil lost no time to admit "he had underrated Kishore earlier".. Gulzar's direct lamentation on loneliness with words "Koi to gham apna tha, koi to saathi hota", coupled with deep and heavy voice and sensational tune, this song is a landmark..
Rahul Dev Burman's association with Kishore and Gulzar has always been special.. Be it the tune of a vagabond "Musafir hoon yaaron na ghar hai na theekana, mujhe chalta jaana hai, bas chalte jaana".. Gulzar is never systematic.. His beauty lie in his thoughts breaking shackles of constraint.. His views had that "dhundlapan" or foggyness which no other poet could express with such confidence.. He could make a youth think in just an unthoughtful way and admit saying "Din ne haath thaam kar idhar bitha diya, raat ne ishaare se udhar bula liya…" – the only thing he can believe in his aimless life- the youth- is that only nature is with him and which is not changing.. Coupled with rhythmic tune of Rahul Dev Burman and the vocal of Kishore. This number of "Parichay"(1972) stands out in uniqueness.
And what about the directionless beauty in "O Majhi re apna kinara"? A boatman has his understanding of the river, where to anchor and where to sail.. The person does not have.. A contradiction in approach if the river is the life and the person is the boatman.. He expresses it openly "Koi Kinara jo kinare se mile woh apna kinara hai"… This indirect approach of Gulzar on aloofness is what he is known for and what was expressed earlier. This song of "Khushboo"(1974) is again a gem. People say RD Burman broke down into tears after listening the final output on Kishore's voice in the recording room.. Was it only for Kishore's voice? Or was it because it was coupled with a poetry which could make people think that in all our lives , however systematic we may be, there comes a junction , where we feel "apna kinara nadiya ki dhara hai"..
"Jaane kya sochkar nahi guzra, ek pal raat bhar nahi guzra…" renders that isolation of Gulzar poetry, which he used to come back from time to time… The pain of the hours of aloofness again sewn in melodious notes by Rahul Dev Burman and vocal by Kishore, makes us feel, has there ever been a better narrator of aloofness than Gulzar?? A gentleman said once "Gulzar can never be imagined in a group photograph, Gulzar cladded in white, bespectacled, sporting a pair of brown chappals, standing and smiling alone".. Perhaps, he is right. Kinara(1976) had other gems of Gulzar and Pancham and along with others, this special gift from Kishore's voice is the most memorable.
How can you express the aspirations and requirements of people belonging to the middle-class better than "Thoda hai thode ki zaroorat hai, zindagi fir bhi yahan khubsoorat hai"… ? Gulzar in simple words has just explained what the simplicity of middle-class is and what aspirations they have.. They dream but with constraint, they aspire but not detached from the ground… So when someone says "Main chhune zara aasmaan chali" , the other warns "Badal pe udna hoga…". Khatta Meetha(1977). Composer:Rajesh Roshan.
Ghar (1978) is very speacial. I can't pick any, between the nostalgic "Phir wohi raat hai" or romantic "Aap ki aankhon mein kuchh".. Rahul Dev Burman again creates two masterpieces where Gulzar describes the beauty of a lady with "Aap se bhi khubsoorat aap ki andaaz hai" and then makes the man nostalgic with "Raat bhar khwab mein dekha karenge tumhe"…
The isolation depiction takes a new turn with "Hazaar rahein mud ke dekhi kahi se koi sada na aayi…." This time Kishore and Gulzar teams up with Khayyam- the ghazal master. Both isolated beings want to reunion again, but something, some ego or some hindrance is again creeping in their minds and they are unsure who should approach whom and finally says "Tumhe yeh zid thi ke hum bulaate, humein yeh umeed who pukaare../ Hai naam hothon pe ab bhi lekin, awaaz mein pad gayi dararein.." This indirect expression is a signature of Gulzar always.
The last two songs with which one can conclude this wonderful journey of these two talented artists.
1. Aanewala pal jaanewala hai..
2. Raahon pe rehte hai yaadon pe basar karte hai..
Both coming again from the tunes of Rahul Dev Burman, the first one makes you feel the importance of every passing moments in life and the other takes you to a ride of time where the person does not bother where the time is going, but only to bother how much road is traversed. Contradictions? But then, Gulzar is all about poetry which defies all norms and all shackles of tradition..
These are only a handful of songs which I have discussed.. I have left out many also like :
1. Gulmohar gar tumhara naam hota(soothing depiction of bonding)
2. Chand churaake laya hoon( a peppy track with touch of fun)
3. Kabhi kabhi sapna lagta hai( a melnacholic depiction of a strange relationship)
4. Sa re ke saare ga ma ko lekar( a breezy children song)
5. Aankhon mein humne aap ke sapne sajaye hai( a lovely interpretaion of love and lust)
6. Tum aa gaye ho.
7. Is mod se jaate hai
8. Tere Bina zindagi se koi shikwa nahi
The last three songs of "Aandhi" need a special mention here, as it is not only Gulzar-Kishore, but Lata Mangeshkar beautifully teaming up, and Pancham indeed! While "Tum aa gaye ho.." is a simple rendition of love, "Tere bina zindagi se shikwa.." is perhaps the most sensitive duet from the golden age of music. Lata carries off the first two stanza with soft and soothing touch and Kishore enters late with the heavy impact rendering "Tum jo keh do to aaj ki raat chand doobega nahi".. A complex relation, broken long back but united temporarily knowing very well it is will break again, how desirous the man sounds in that line where he wants to stop the time so that the momentary accompanying does not get lost.
Just as I had started with the thoughts of Gulzar, I end with a nostalgic feeling and that tenderness in poetry and rendition, which makes Gulzar and Kishore so special..
Ek door se aati hai, paas aake palat ti hai..
Ek raah akeli si, rukti hai na chalti hai…
They move on but always seems in their movements, the time has come to a standstill.