Kishore – S.D.Burman – A Relationship That Began With 'Aradhana'
Destiny takes its own course in everyone's life. Kishore Kumar was destined to meet the famous Sachin Dev Burman on that day. It was during one of those earlier periods in Kishore's life when he was starting his career and not much known. S.D.Burman visited Kishore's brother at their home in Mumbai. Kishore, who had […]
Destiny takes its own course in everyone's life. Kishore Kumar was destined to meet the famous Sachin Dev Burman on that day. It was during one of those earlier periods in Kishore's life when he was starting his career and not much known. S.D.Burman visited Kishore's brother at their home in Mumbai. Kishore, who had not got any formal education in music, had adopted a style in those days to imitate the notable singer K. L. Saigal.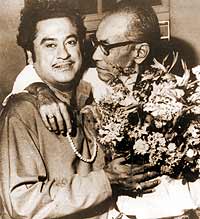 Burman, on listening to Kishore's song from outside, mistakenly assumed that Saigal was singing inside. Soon Kishore was introduced to Burman by his brother, and thus the first meeting between Kishore and S.D.Burman happened unexpectedly. It was that meeting that altered the destiny of Kishore Kumar altogether. From that day onwards, Kishore stopped mimicking others and started singing in his own voice. Soon he developed a style of his own. He became popular in the Indian music world with his unique yodeling style that he adopted in his singing.
The Bollywood will never forget the movie Aradhana and its songs. The movie was a significant milestone in Kishore Kumar's career too. Firstly, he was absorbed to sing the songs that were previously decided for Mohammed Rafi. Again it was destiny that played a big role in choosing Kishore in that notable movie. S.D.Burman fell ill, and it was R.D.Burman who took the responsibility of completing the movie of his father and decided to use Kishore Kumar. Kishore Kumar thus got the opportunity for singing 'Roop Tera Mastana' and 'Mere Sapno Ki Rani'. He bagged his first Filmfare award for the song 'Roop Tera Mastana' in that year.
Kishore Kumar's honest association with S.D.Burman helped him achieve a series of hit songs from the movies such as 'Taxi Driver, Paying Guest, Funtoosh, Nau Do Gyarah, etc. Prem Pujari, a debut from director Dev Anand, though did not find much audience, was known for the popular hits 'Phoolon Ke Rang Se' and 'Shokiyon Mein Ghola Jaaye' – a combined effort of S.D.Burman and Kishore Kumar.
The relationship of Kishore Kumar with Burman did not find any boundaries. They were made for each other. 'Sharmilee' and 'Jugnu' followed to add to the success stories of the duo with the songs 'Aj Madhosh Hua Jaaye Re', 'Khilte Hai Gul Yahan', 'Oh Meri Sharmilee', and 'Pyaar Ke Is Khel Mein'. The last few films of S.D.Burman as music director with Kishore singing apart from Mili, were 'Arjun Pandit' with the song 'Dil Mera Udh Jaaye', Deewangi with the memorable soft song 'Chalo Sapnon Ke Shehar' and Tyaag, with yet another beauty rendered 'Man Pukare.' (These films were released much later in 1976.) The commitment of Kishore Kumar to S.D.Burman continued even after Burman's unexpected departure from the world of music and movies in 1975. After the death of S.D.Burman, Kishore Kumar kept his commitment towards his maestro by associating with R.D.Burman and continued his contribution by singing many songs including 'Sholay', 'Warrant', Heera Panna', etc.
Kishore Kumar – S.D.Burman pair will remain in the hearts of the music enthusiasts forever. There are certain souls in the world that are 'Made for each other'. The humanity gets rare chance to identify and make the most of such pairs. Indian cinema was lucky to have one of them – KK and SDB.
© Copyrighted to Yoodleeyoo.com All Rights Reserved.