A Darker Truth
When anyone mentions Kishore Kumar today, one's instant reaction is that he was a very famous comedian and then the second most popular reaction would be that he was a great singer. Must say, that is a lot to achieve in a single lifetime. But the truth is that is just the tip of the […]
When anyone mentions Kishore Kumar today, one's instant reaction is that he was a very famous comedian and then the second most popular reaction would be that he was a great singer. Must say, that is a lot to achieve in a single lifetime. But the truth is that is just the tip of the iceberg. Kishore Kumar was a lot more than that.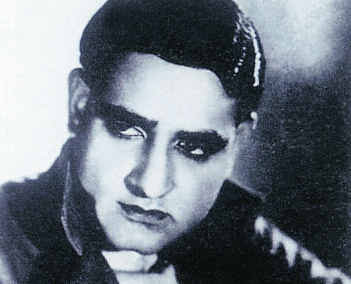 Born in 1929 in a Brahmin family, no one had any idea that Kishore Kumar, born Abhas Kumar Ganguly, would ever become the mega star he grew to be. At the tender age of 19, he arrived in the city of dreams to try his luck. His brother Ashok was already an established film actor in Bombay. Naturally, Kishore Kumar too was nudged in the same direction. But what Kishore really wanted was to sing – he idolized Saigal Saab for his enchanting voice and tried to ape him. Though he had never received any training in singing, he went on to become one of the most famous singers the industry has ever seen.
Trying something new and excelling in it came naturally to Kishore. Due to his second wife -Madhubala's heart condition, his acting career took a slump for 9 crucial years. But he saw this as an opportunity and created some really deep and meaningful movies in the time available.
As a film maker, Kishore's style was vastly different from that of the jovial comedian that everyone saw. Being a realist to the core, his films were stark and naked – with a strong message and equally strong direction. Very to the point, it made quite a few people uncomfortable. He was labeled as an eccentric and his films were considered as not being commercially viable. But that's exactly what they were not – he made those films not for main stream success, but for satisfaction.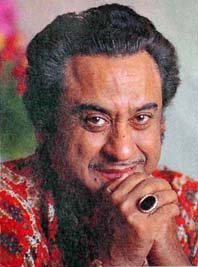 One of his productions titled Door Gagan Ki Chaaon Mein features him in the title role. The story is that of a soldier, who is anxious to get home after a long and strenuous war only to see that his home has been torched to the ground and the only survivor of this catastrophe is his son who is so badly traumatized that he can't speak. The movie is about the unspoken bond that the two develop between each other – one which starts of as slow and halting, but gradually becomes the epitome of love and devotion. The film also stars his son Amit and the duo has doe such a beautiful job – it is moving and brings tears to your eyes.
Then who can ever forget Chalti Ka Naam Gaadi – a light hearted comedy of errors which stars all the three brothers – Ashok, Kishore and Anup plus his second wife. In a hilarious and rib cracking comedy, Kishore has exhibited his versatility in direction – he showed everyone that he is not closed to anything.
It is really sad that of the 18 films that he made, only eight saw the light of day and even those were grossly under rated. When it came to expressing himself through films, Kishore Kumar let a deeper, intellectual side of him be seen. Unfortunately, not too many could see that part of him as they were too busy laughing at his antics in other films. If they would have made that effort, they would have seen another facet to this gem of a man.
© Copyrighted to Yoodleeyoo.com All Rights Reserved.