Evergreen Friendship – Kishore and Dev Anand
Known as the evergreen actor of Bollywood, it is nothing out of the ordinary that this great veteran of Indian cinema has the same kind of dedication in his personal relationships as well. Dev Anand has always been cited as one of the best actors that our silver screen has ever seen. But this fame […]
Known as the evergreen actor of Bollywood, it is nothing out of the ordinary that this great veteran of Indian cinema has the same kind of dedication in his personal relationships as well. Dev Anand has always been cited as one of the best actors that our silver screen has ever seen. But this fame did not let his head move away from his shoulders and he is one of the most down to earth actors ever. He never forgot his friends and stuck by their side – be it rain or sunshine. This is very evident with the beautiful relationship that he shared with Kishore Kumar.
Incidentally, it was Kishore's brother Ashok Kumar who first spotted Dev Anand hanging around at the studio and got him his first break. His association with Kishore Kumar started when the former sang for him in the movie Ziddi. This helped him establish himself as an actor as the songs were very well received by the audiences and Dev Anand became quite a sensation after that. But along with fame, he also got something which was probably more important – he had forged a very strong bond of friendship with the maverick Kishore Kumar; one that was destined to go a long way.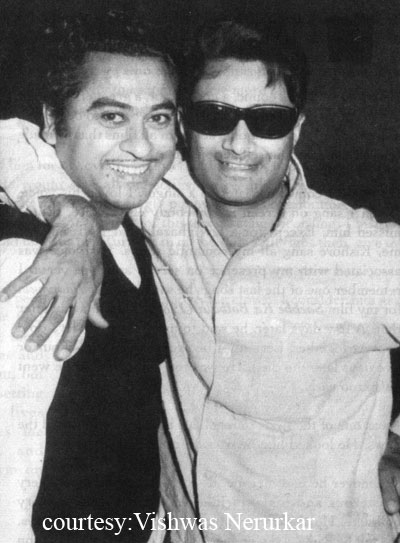 Now there was no looking back for either of them. As Kishore Kumar started getting more recognition as a singer, he sang for Dev Anand. Some of the songs that the super hit duo had success with are "jeevan ke safar mein rahi…" from the movie Munimji and "chodd do anchal…" from the film Paying Guest. And who can forget the song "hum hain rahee pyaar ke…" from Nau Do Gyarah? This extremely wonderful pairing continued with more hit sagas like "gata rahe mera dil…" from the colossal hit Guide and "pal bhar ke liye koi hume…" from Johny Mera Naam. Whew! Quite exhaustive, but this is just the tip of the iceberg.
The beauty lies in the fact that the above mentioned movies belong to different generations and at a certain point in time, there were no assignments coming Kishore Kumar's way. Even then, Dev Anand stuck by and insisted on having him in on a lot of projects. Even when Dev Anand made his directorial debut with Prem Pujari, he did not forget his old friend and Kishore sang for him. Though the film did not do very well, the music became very popular and was well received by the audience.
Their association continued even further and right until the time both of them were in the business, they never strayed too far from each other. Along with the industry, Dev Anand also felt the loss of Kishore Kumar as not only had he lost his screen singing voice, but more importantly, he lost a good friend. Their fame spread so wide that a song that they did together- "pal bhar ke liye koi…" from Johny Mera Naam was used in an episode of The Simpsons.
We are sure that Dev Saab will never forget his friend and will cherish the moments and success that they shared forever. So will we.
© Copyrighted to Yoodleeyoo.com All Rights Reserved.