Singing semifinals held by kishore memorial society
The semifinals of a competition to find melodious voices among budding singers was held here today under the presidentship of Mr Ravinandan Sharma. The competition was organised by the Kishore Memorial Society. "The competition is an effort to provide a proper platform to budding artistes," said Mr Sharma. More than 150 participants from Ludhiana, Chandigarh, […]
The semifinals of a competition to find melodious voices among budding singers was held here today under the presidentship of Mr Ravinandan Sharma.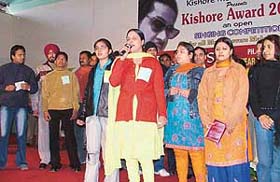 The competition was organised by the Kishore Memorial Society. "The competition is an effort to provide a proper platform to budding artistes," said Mr Sharma.
More than 150 participants from Ludhiana, Chandigarh, Amritsar, Panchkula and Jalandhar among other places showcased their talent. The finals will be held at the Nehru Sidhant Kendra on January 22.