An Interesting Tale Of Two Legends – Salil da and Kishore da
by Arghya Dutta They were both considered to be the most talented and genius musicians India has ever produced… One born in 1923 and the other in 1929… One in Bengal and the other in Madhya Pradesh.. One was involved with peoples' movement right from his college days whereas the other was more or less […]
by Arghya Dutta
They were both considered to be the most talented and genius musicians India has ever produced… One born in 1923 and the other in 1929… One in Bengal and the other in Madhya Pradesh.. One was involved with peoples' movement right from his college days whereas the other was more or less immersed in the songs of K L Saigal in his youth… One was considered a cultural icon in Bengal and a strong vocal supporter of a particular political ideology in Bengal whereas the other was not even matured enough to understand politics… One was wholeheartedly into the IPTA movement, whereas the other hardly thought of anything than to meet his own idol K L Saigal in Bombay…
The former started his career as a poet and musician, particularly writing and composing mass-movement songs, the other started his "not-so-successful" career as a playback singer almost around the same time later on to become "more successful" as an actor for quite some time.. The former was Salil Chowdhury and the latter was Kishore Kumar…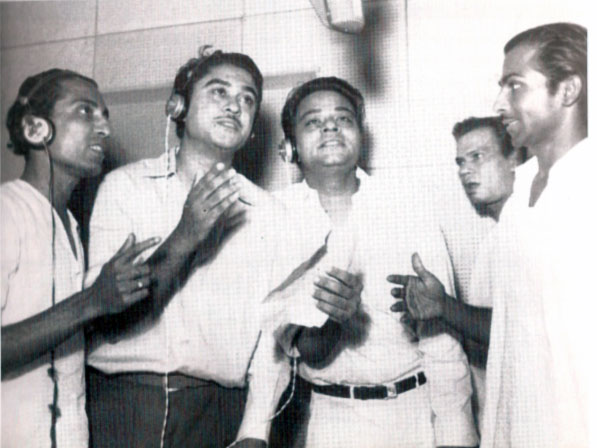 One commonality they shared, their love and passion for music!! Which was, for both of them, a natural heritage and not an imposed one!!
They met for the first time in 1954, at the recording studio of Naukri-Bimal Roy venture-where Kishore was the hero and Salil was the music director… Salil never knew of Kishore and out of inquisitiveness, wanted to find how "capable" he was to carry out a song to be picturized on him only… Kishore could not impress him much.. which ultimately made Salil almost decide to go for Hemant Kumar to record the song.. Somehow, the interference of Ashok Kumar and Bimal Roy saved the day for Kishore, as he got ultimately the chance to sing the classic "Chhotasa ghar hoga" and two more numbers for salil, definitely with the latter's reluctance
The start was not very enthusiasing… And perhaps, Salil, in his slow and steady progress in Bollywood, somehow forgot about that tall and lanky youth in the course, who had given out his best for Salil… But that commonality, the natural and god-gifted passion for music, was timed to meet again…
Salil did come to Kishore- only to hand over some stray numbers in between in Awaaz, Parivaar and Musafir…The "Parivar" number "Kuvein mein kood ke mar jana" is still considered to be one of Kishore's comic best! Kishore, also, by that time realizing that the industry was really not taking him seriously as a singer, focussed more on his acting( as a comic hero!!).. Well, much to his surprise, Kishore found a big fan following for his kind of acting also!! And by 1958, he was the most sought-after star after Dilip-Raj-Dev!
[wp_youtube]m66IHyeUXXk[/wp_youtube]
[Salil da on Kishore – Half Ticket]
They again met..this time in 1962… as this was a movie again with Kishore in lead role, really don't know what was going in Salil's mind this time, but now he was ready with 4-5 comic songs for him, which was perhaps were not so great in quality but definitely very entertaining… Kishore left no stone unturned.. He sang in a child's voice, his own voice, even both in male and female voice and did get some pat on back from Salil for that "aake seedhi lagi deil pe", but really did not find his career both as a singer or as an actor getting any better…
The following years so a dip in both of their careers.. Kishore, troubled with the health of Madhubala and his ever-sliding acting career, went into an abysmal depth where he almost decided to retire in 1968.. Salil's big patronage in the form of Bimal Roy was gone with the latter's untimely demise, big projects were really not coming to him.. add to that his artistic difference with Mohd. Rafi, he was doing music without the most sought-after male voice in the industry, and his gems were also not getting noticed by their glitters~~
[wp_youtube]1_bditufIK8[/wp_youtube]
1970 – The year was good for both of them.. Kishore, after a long drought, got a big and ultimate hit in the form of Aradhana with which he was able to drive away everyone else from the top spot and acquire that most coveted place for him.. Salil, also, after quite some time, got a big place to showcase his talent in the form of "Anand" with superstar Rajesh Khanna… And Kishore, by that time, had already become the vice of RK!! But, the pair could still be not coupled!! Following a dispute with the movies director Hrishikesh Mukherjee( who originally comsidered Kishore as the lead role in Anand), Kishore went out of the project… That did not really bother Salil that much, I suppose, as his favourites Mukesh and Manna De delivered the goods for him.. But in 1971, that much awaited coupling happened… This time in a small budget movie of Gulzar called "Mere apne".. By that time, Kishore had become so evident in the playback singing market, perhaps, Salil also did not want to stay out of it…. And they together created magic in the form of " Koi Hota Jisko Apna"… Salil told after this song that it was the first time in 17 years that he realized how much potential Kishore had in his voice.. Well, that "natural sponteinity" to music of both of them were destined to meet, ain't they??
And they went on… 1972 saw "Anokha Daan" with two typical Salil compositions of Kishore- "Humrahi manzil ke" and "Ati ghir ghir sawan ke"… 1972 also saw "Annadata", considered to be the best of Salil in 70s, where, apart from Lata's "Raat ke Saye Ghane" and "Nisidin Nisidin" and Mukesh's "Nain hamare saanj sakare", Kishore delivered two most difficult chord progression and complex note changing numbers in the form of "Champavati" and "Guzar Jaye Din"… well, the latter did take KK also 5 takes, but at least, he could do it, which according to Salil "could not have been done by anyone else"…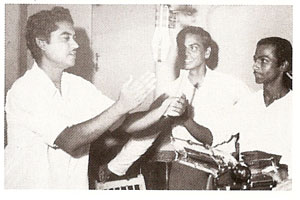 But, there were differences… Kishore, known for his eccentricities, were not available many times Salil called him..
While making "Anand Mahal", Salil called Kishore, to which Kishore could not respond… So, Salil put him out of "Chhoti si Baat" project… Kishore went to show his dissapointment, to which Salil gave him the project of Jeevan Jyoti in 1976… A brilliant rendering of "Maujon ki doli"( a remake of Salil's 1963 composition for Lata- Keno kichhu katha) just proved their distinct similarity of music which bound them again and again.. One was always ready to come up with sinoseudal changes in notes and the other responding to them with equal flair…
They again created beautiful melodies called "Mil gayi achanak mujhe har khushi" in 1978 in Agni Pareeksha and "Shono Shono Go shobe" in Kavita in 1979.. But the gap was widening… Kishore, was now the most expensive and most demanded singer, whereas Salil was still there, still enchanting thousands of people with his complex chord progressions and peculiar notes, but somehow, more constraint to low-budget affairs…
[wp_youtube]H6D4CuALSL0[/wp_youtube]
As a tribute to their creativity, the last magic they created called "Mone Pore Shei Sab Din"( Man Kare Yaad Woh din in Hindi) still takes us to the immortal memory of both these legends, who were like sorcereors' stones, all the 30 times they came together, they stroke 24 carate GOLD!
"Baharon ki doli leke kitna bhi chahe yeh mausam saje…
Tere bin basant bhi patjhar lage…."
(picture courtesies: Derek Bose's and Vishwas Nerurkar's books on Kishore Kumar)