Kishore 79th Birthday Fiesta – August 4 2008
A new treat everyday on Yoodleeyoo.com. A week long Celebrations to Commemorate Kishore 79th Birthday.Yoodleyoo.com celebrates Kishore's 79th Birthday Special. Today's Special – An article contributed by a KK fan – Kishore – In The Present Milieu Log in everyday to see what is special on Yoodleeyoo.com! Tomorrow's special – 5th August – Video/Audio Clips […]
A new treat everyday on Yoodleeyoo.com.

A week long Celebrations to Commemorate Kishore 79th Birthday.Yoodleyoo.com celebrates Kishore's 79th Birthday Special.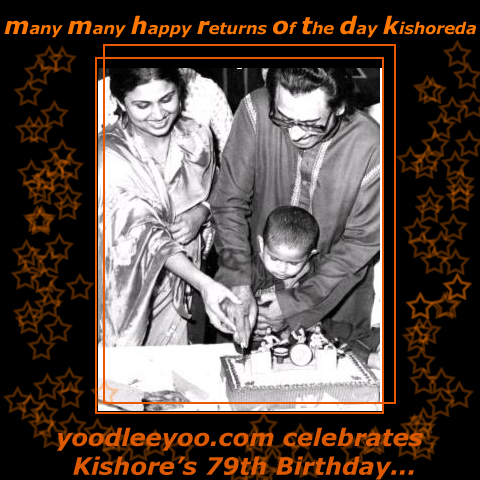 Today's Special – An article contributed by a KK fan – Kishore – In The Present Milieu
Log in everyday to see what is special on Yoodleeyoo.com! Tomorrow's special – 5th August – Video/Audio Clips
Wish Kishore on his birthday here.
© Copyrighted to Yoodleeyoo.com All Rights Reserved.