Versatile singer and a man of different moods!
Kishore Kumar the legend ....
Many articles in the past have been published projecting varied perspectives of Kishore Kumar, they called him eccentric, they called him very human, romantic......
But what overwhelmed it all was his "Golden Voice" that gave us so many songs that are beyond par excellence.......
The depth, the emotion, the mettle, the voice, the incomparable Kishore Kumar the Legend Kishore Kumar's passing on Oct 13, 1987 left a void that could never be filled.
a tribute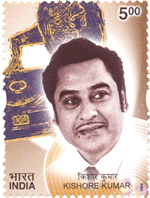 A commemorative stamp has been released by our Philatelic Bureau - Dept. of Posts India - commemorating our Legend Kishore Kumar.
The postal stamp was released on May 15, 2003. Fans can avail the first day cover and stamp from the Head Post Office of their cities which have the Philatelic Bureaux.
- Special Bulletin.